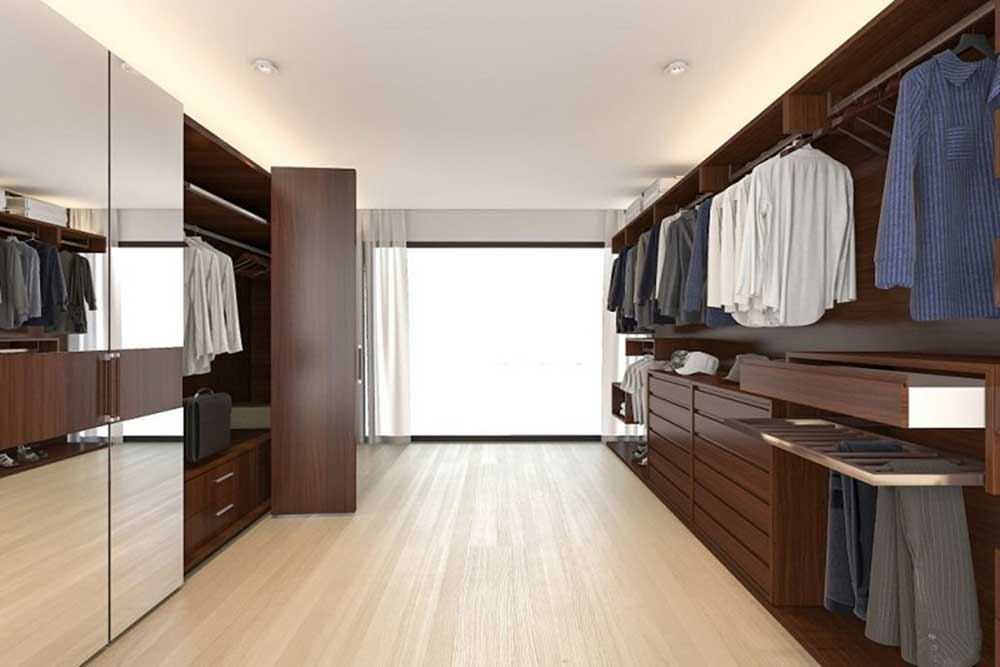 Best Ways To Pick The Best Wardrobe Cabinets
The appearance of your wardrobe may need to be balanced with the functionality of the other bedroom furniture, which may prove to be a challenge. You may choose the bedroom wardrobe cabinets using the following straightforward approaches.
Today, we have enlisted a few chic, roomy and well-furnished closets which are almost like the stylists and the celebrities. It would help if you comprehended your preferences before attempting to recreate their outfits with your own.
What kind of wardrobe
There are two types of wardrobes: built-in and stand-alone. Families who move frequently might benefit from a stand-alone wardrobe: lightweight and portable, these wardrobe cabinets can be easily transferred as needed from one space to another. The style and space, though, need some compromise.
Contrarily, a built-in closet is a long-term storage option that can also serve as a dressing area, depending on the available space. It is perfect for households that schedule to stay in a place for longer. Built-in closets provide more stability and opportunity for customization than standalone wardrobes, but they are not as easily moved should the need arise.
You may pick the style, material, etc., of built-in wardrobes based on your preferences. According to kind, the cost of the wardrobe also varies.
Choose a style
The other bedroom furniture and the interior design theme should complement the wardrobe cabinets. It covers the door's types of finishes, colours, and decorations.
Get a wardrobe with beautiful doors if your bedroom's décor is elaborate. You may even choose a chic open wardrobe without doors for a simple, minimalist appearance.
Pick colours that match well with the current colour scheme of your space when choosing the colours and finishes for your wardrobe. Make sure your bedroom and wardrobe have complementary design aspects for visual harmony.
Measurements for clothing
Measure the available floor space and ceiling height before buying the wardrobe cabinets for the bedroom. Additionally, you'll want to confirm that the clothing rod is set at the ideal height for your requirements. Clothes and pants should typically be 45 inches long, while children's apparel can be positioned at about 30 inches.
Deeper shelves are also advised since they increase storage capacity. To guarantee that your items can be reached easily, ensure the total measurement is at most 15 inches. Ensure the room's lighting sources are kept from the bedroom wardrobe!
Provide adequate space between your bedroom closet and the other room objects for easy transportation and operation.
Storing options
Consider your clothing collection while choosing the type of wardrobe cabinets you need. Ensure you have adequate hanging space for dresses and other formal attire if your bedroom's closet is primarily used to store these items.
You can buy a cabinet with several drawers loaded with accessories in your closet. As a result, a different collection of accessories will fit in each drawer.
Usage
Many wardrobe cabinets are available, including fitted, freestanding, sliding, mirror, three-door, two-door, and more. The variety and structure of the dangling space, drawers, racks, and shoe racks are under the nearly endless space once the doors are opened. And that is just the frame.
Therefore, consider what storage space you mostly want. Is there a combination of places for items or cosmetics, shoe shelves, closets for smaller items of clothing, clothes-hanging locations, shoe shelves, or spaces for all the above? Consider the usefulness your wardrobe must provide once you've determined its precise purpose. It will assist you in choosing the external and internal requirements your wardrobe must satisfy.
Make a note of your outfits
It's important to keep track of how many items you have in your wardrobe for each season. This way, you can make sure you have enough space to store everything and that your clothing is organized efficiently. Additionally, keeping track of additional items like handkerchiefs, underpants, etc. will help you better visualize your wardrobe and decide on the best design for it. Knowing how many garments will be stored in the wardrobe will enable you to determine the size of the hanging space and the number of drawers required.
Conclusion
Your budget can be fine when you buy new bedroom wardrobe cabinets, and there are a variety of commercially available solutions to fit a wide range of budgets. Therefore, consider these crucial considerations when selecting your bedroom wardrobe to ensure you have the greatest.