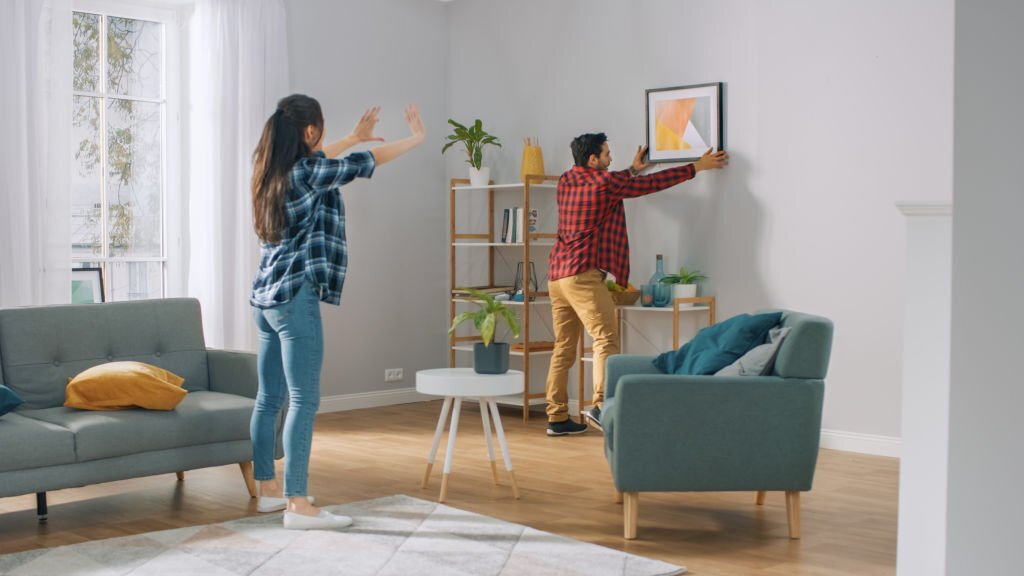 9 Ways to Decorate a Large Wall in Your Home
Walls are the main pillars of your home. The look of the wall creates the entire vibe in a home. A beautiful painting, a well-placed mirror, or some stylish shelves can change the entire look of your home. A small front wall is easy to adorn, but some houses are built with a large main or front wall. And ignoring the decor or style of this wall can make your home look incomplete. So, if you are one of those people who have been struggling to decorate a large wall in their home, then this post is for you! Here are some ideas to help you decorate a large wall in your home:
#1. Paint in Strips
Paint is the major player in a room. The walls, ceiling, and floor set the tone for everything else in the room. You can use paint to make a large wall more interesting by painting it in different colors or stripes. It is a great way to add color and personality to a room. Vertical stripes in neon shades or warm neutrals can add a touch of glamor and luxury, while horizontal stripes in cool shades or neutral colors can give the room a more modern feel. The paint color you choose can also help define the room's space.
#2. Make a Gallery Wall
Walls are the main decor panels of a room and should be given the same attention as other pieces of furniture. A large wall can easily become a focal point in a room if it is styled correctly. One way to style a large wall is to make a gallery wall. Gallery walls are collections of art or photographs hung together on one wall. This decorating is a great way to show off your personality and style. To make a gallery wall, start by picking out artwork or photographs that you want to use. You can either choose pieces that are all the same size or mix it up and use different sizes. Once you pick them, it's time to hang them.
#3. Use Furniture to Break Up the Space
If you have a large wall but don't want to hang anything on it, you can use furniture to break up the space. It may be a colorful couch like a yellow couch with colorful cushions. Or you can place two coffee seats with a small table in the middle. To add a touch of the statement, place a crystal vase with fresh flowers on the table. This way, you can fill up the large wall without using any art. In addition, a bench covered in a tribal pattern rug or colorful ottomans is also a good idea to use.
#4. Add Shelves
Adding shelves to a large wall is another great way to use up space and add some decoration at the same time. You can go with a built-in shelf or attach shelves to the wall. If you have a lot of books, this is a great way to show them off and make use of vertical space. Plus, it's always nice to have extra storage in any room in your home. Another option is to fill up the shelves with some decor accessories, a frame or two, and last but not least, a small cactus pot. This way, you'll have a little bit of everything on your shelves. Any home décor store will have these shelves and add-ons. With CouponGot coupons and discounts, you can get the greatest for your house without spending too much.
#5. Add A Mirror
Adding a mirror is a great way to add light to a room and make it feel bigger. Mirrors reflect light and make a room feel more open. Not to mention, it's a great way to check your outfit before you head out the door. Place a mirror on a large wall in your home and enjoy its effect on the room. Another option is to add wallpaper or fabric behind the mirror. It will help add some color and personality to the room. Moreover, a wooden framed large mirror can be a great addition to almost any room in your house.
#6. Go for a Statement Wallpaper
Wallpapers are in trend for a reason. They can completely transform a room and add personality. If you're looking to add some excitement to your large wall, go for a statement wallpaper. There are so many options these days, from bold patterns to colorful designs. Or if you want something more subtle, there are plenty of neutral wallpapers to choose from as well.
Moreover, Floral or nature-inspired wallpapers can be really pretty and bring some life to a room. It will make your wall inspiring without too much effort. You may also shop at your local home furnishings store for more variety and alternatives. They have a large selection of wallpaper collections to fit any size wall. And using coupons and promotional codes, you can save money on the most classy wallpapers.
#7. Use Artwork
Artwork is an easy technique to add personality and style to a large wall. You can go for pieces that match the vibe of your home or choose something completely different that will stand out. If you're not sure what type of artwork to choose, take a look at your favorite paintings, photographs, or prints and try to find something similar. You can also visit art galleries in your area to find unique pieces that you won't see anywhere else. If you're looking for a more affordable option, consider using posters or canvas prints instead of original artwork. There are tons of great designs out there that will add personality to your space without breaking the bank.
#8. Add Some Texture
The texture is the main element of this next idea. By adding a textured wall treatment to your large space, you can create an interesting focal point that will draw the eye and add visual interest. There are many different ways to do this, but my favorite is wallpaper. Wallpaper comes in various textures, colors, and styles these days, so it's easy to find something that will fit your space and personality. If you don't adore wallpaper, you could also add some texture with paint or a fabric wall treatment.
#9. Bring in Some Plants
Adding plants to any room is always a good idea, but it's especially true for large spaces. Plants add life and color to a room, and they also help to purify the air. If you're unsure which plants would work best in your space, ask an expert at your local garden center. A few indoor plants in the corner or hanging some faux shrubs from the ceiling can make a big difference. Plants will instantly uplift any space and make it feel more inviting.
On a Final Note
Walls are the main pillars of any room, so it's important to make sure they're decorated in a way that makes you happy. Take your time, and don't be afraid to experiment until you find the look that's perfect for you. With these nine ideas, you're sure to find the inspiration you need to create a beautiful wall display in your home.