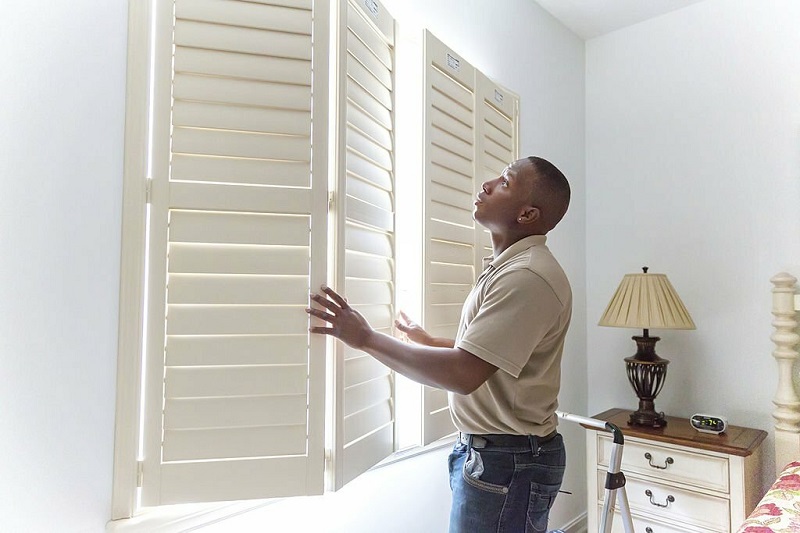 How to Choose the Right Plantation Shutters for Your Home
Have you ever walked into a home and been instantly charmed by those wide louvered shutters that furnish the windows? The ones that are as functional as they are beautiful? And then found yourself wondering, "Wouldn't they look incredible if they graced my windows too?" They are plantation shutters, a timeless choice that brings an air of elegance and functionality wherever they are installed.
Plantation shutters are of no novelty. They have been a favourite among homeowners for years, given their versatility and practicality. They provide excellent temperature control and privacy while enhancing the aesthetic appeal of any home. However, choosing the right type can often be a perplexing task, particularly when you're not sure what aspects to consider.
Are they right for your home? Which style will suit your décor the best? Are they really worth the investment? This blog post aims to uncomplicate your quandaries and help you navigate the process, ensuring you make the best choice for your home.
What Are Plantation Shutters?
Our journey begins with understanding what plantation shutters are. With roots dating back to ancient Greece, their design has evolved significantly through the years. Today, they are seen as chic, louvered wooden shutters that can be installed internally or externally in homes.
The name 'plantation' shutter derives from the large, sprawling plantation estates in the American south, where they became popular due to their practicality in hot, humid climates. Made from a variety of materials such as wood, faux wood, or vinyl, these shutters provide substantial control over light and air flow, making them efficient in both summer and winter seasons.
Whether in traditional or contemporary settings, plantation shutters add stylistic versatility, a central aspect to their growing popularity. Now, shall we delve deeper and understand why you should consider them for your home?
Why Choose Plantation Shutters?
The allure of plantation shutters extends beyond their appealing aesthetics. These shutters are worth considering for many practical reasons. They offer excellent light control, helping you modulate natural light to create the perfect mood. Their adjustable louvres also provide efficient ventilation.
Privacy is another significant advantage of plantation shutters. With a simple attempt, you can close off parts or the entire window, ensuring your home becomes your sanctuary. Moreover, shutters, particularly those made of wood, offer excellent insulation properties, keeping your home warm in winter and cool during summer.
Styles and Materials: Making the Right Choice
Depending on your taste, space, and budget, shutters come in various styles. Full-height shutters cover entire windows, offering a clean, sleek look. Cafe-style shutters leave the top half of the window bare, allowing generous daylight while maintaining privacy.
Material choice should align with the room's purpose. Hardwood shutters, known for their durability and robustness, are ideal for high traffic areas. For humid regions or bathrooms, composite shutters, which resist warping and cracking, are the go-to choice.
Measuring and Installation – DIY or Professional?
Plantation shutters can either be installed inside the window frame or to the wall surrounding the window. Accurate measurements are critical. Consider professional installation if handling tools is not your forte.
The Investment Factor – Are They Worth It?
The initial cost of plantation shutters can be high when compared to other window treatments, but they are an excellent investment. They have a long lifespan, help with energy efficiency and increase your home's resale value.
Caring for Your Plantation Shutters
Regular dusting and occasional deep cleaning with a damp cloth can keep your shutters looking new for years. Avoid harsh chemicals, as they can damage the finish.
Conclusion: The Final Picture
Plantation Shutters starts with understanding your needs and then aligning them with the right style, material, and budget. While the decision-making process may at first feel overwhelming, the benefits that shutters deliver make the effort more than worthwhile.
Consider the aspects highlighted in this blog, ponder over why plantation shutters could be an ideal fit, review the various styles and materials options, mull over the idea of DIY or professional installation, and weigh in the investment factor. With these insights, you are sure to make an informed choice that will not regret.
Remember, your home is your sanctuary and every element you incorporate should reflect your unique style. So, take your time, do your research, and choose the right plantation shutters that will bring your home closer to your vision.